Visit Our Outdoor Living Showroom
Ready to upgrade your home? Let us show you how with propane!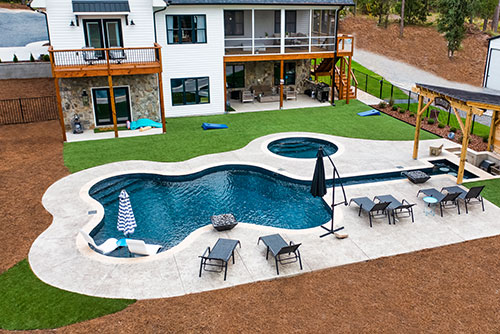 Propane can do so many things around your home, and PFM Propane is here to help you make the most of this versatile and efficient fuel.
Our outdoor living showroom, situated within the Pool Store of the Pines storefront, is located at 965 Old US HWY 1 in Southern Pines, North Carolina. We carry high-quality propane appliances to enhance your outdoor living experience and make staying home enjoyable.
You can also stop by our main office in Siler City where we offer a variety of in-home, propane-powered products. These include gas logs from Heatmaster and American Hearth, as well as space heating solutions by HeatStar and Empire Comfort Systems!
American Outdoor Grills
Make your dreams of an outdoor kitchen come true! Our selection of grills from American Outdoor Grills offers a wide range of sizes and options. The grills are up to 36 inches wide and feature easy ignition systems. You can choose a built-in, portable or post grill. Want to up your grill game? Add features like a rotisserie, griddle, smoker box, pizza stone and more.
Having your very own built-in grill is easy with a pre-made island that allows for drawers, doors and a refrigerator!
Primo Smokers
North Carolina is barbecue heaven! Your backyard can be a barbecue paradise with outstanding smokers from Primo. You can choose from charcoal smokers, pellet grills and kamado grills that are a smoker, grill and oven all in one.
Grand Canyon Fire Bowls and Fire Pits
Gathering around a fire promotes a sense of community and comfort that Grand Canyon fire bowls and fire pits can help you accomplish. Whether you enjoy hosting family and friends or relaxing by yourself after a long day, these fire features can elevate your backyard experience.
Fire pits range in size from 18 to 48 inches in diameter, so you can get the right size for your yard. Fire bowls offer a more streamlined, modern look that you can customize to fit your backyard. The selection of attractive and durable gas logs crafted to look like wood such as oak, driftwood and aspen allow you to further customize your fire pit or fire bowl to suit your style.
The PFM Propane appliance experts are knowledgeable and will help you choose the appliances that best suit your needs and your budget. We sell quality, name-brand appliances and provide expert installation.
Pool Store of the Pines (PFM Propane Outdoor Living Showroom)
Address: 965 Old Us 1 Hwy, Southern Pines, NC 28387
Phone: 910-725-1003
Store Operating Hours:
Monday: 9:00 a.m. – 5:00 p.m.
Tuesday: 9:00 a.m. – 5:00 p.m.
Wednesday: 9:00 a.m. – 5:00 p.m.
Thursday: 9:00 a.m. – 5:00 p.m.
Friday: 9:00 a.m. – 5:00 p.m.
Saturday: 10:00 a.m. – 1:00 p.m.
Sunday: CLOSED