What Kind of Gas Logs Can You Use in an Existing Fireplace?
Written on: November 28, 2022
Converting to Gas Is Easy…and the Logs Look Amazingly Realistic!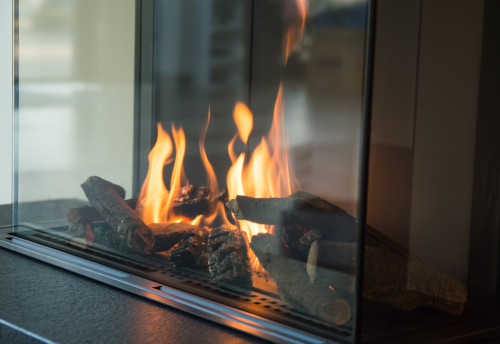 Nothing's better than a toasty log fire, on a chilly winter evening here in North Carolina with its ambiance and charm.
That said, no one envies the hassle and the mess post-fire of burnt logs and embers plus the worry about making sure the fire's truly gone out before you go to bed. Want an easier solution? Our customers are always surprised to find out just how easy it is to convert an existing hearth to a gas fireplace!
But, they are often concerned about what kind of logs you use in an existing fireplace that's been converted to gas. Rest assured, it's not a molded plastic log over a lightbulb. In fact, there are all sorts of realistic looks and styles that are available. We'll get you more familiar below:
What Are Gas Logs Made Of?
The gas logs in a gas fireplace are made from cement, ceramic, or ceramic fiber blends that are carefully crafted and painted to look just like real wood logs. They're so detailed you can even specify a species of wood! Those realistic-looking logs are fitted with small pipes that release gas, a lot like the burners on your stove.
Gas logs are made to withstand high heat, and should last five to ten years, depending on how much you use your gas fireplace and how you keep up with routine maintenance.
Is It Complicated to Convert?
Thanks to direct vent and ventless technology, it's easy to add a fireplace almost anywhere, even without a chimney—especially if you already use propane in your home. And converting your existing fireplace is easy, too. The simplest option, vented gas logs, will give you the same look as a wood fire, but because the damper stays open, most of the heat produced is lost. To keep the heating ability, you'll want to choose a ventless or direct vent gas insert.
Ventless or Direct Vent: What's Best?
Ventless models have a regulator that produces a fine gas-air mix that allows the gas to burn cleanly, and reduces the fumes associated with traditional gas fireplaces. 
With direct venting, a single dual-chambered pipe is installed directly through a wall to the outdoors. The pipe simultaneously draws air for the fire from the outdoors, while it expels the fire's combustion byproducts to the outside.
The Benefits of a Propane Fireplace
Propane-fueled fireplaces add ambiance, but they also provide efficient supplemental heat without the mess, smoke, and ash of a wood-burning fireplace. And a gas hearth is much safer! No more playing with matches and waiting for tricky kindling to catch. You can turn on and adjust the flame with a wall switch or even a remote control. Then, simply turn it off when you are done. No waiting for embers to burn out or worrying that they will flare up again.
Warm Up Your Home This Season with Assistance from PFM Propane!
Nothing beats the cozy charm and ambiance of a fireplace. Let the team at PFM show you how easy and affordable converting to a gas fireplace can be. We service and install everything we sell, and we stand by our work. Contact us for more information today.