Propane Backup Generators For Home Safety
Written on: June 28, 2022
Get Peace of Mind in the Face of Extreme North Carolina Weather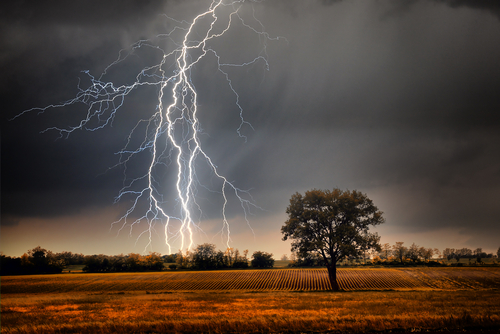 A bad thunderstorm can down lines and knock out electricity, and more frequent extreme and unpredictable weather. Coastal storms, tornadoes, and unexpected cold and ice storms can leave you without power for days. With the National Hurricane Center predicting yet another above-average hurricane season, it's important to be prepared, even if we're not right on the coast.
A backup propane generator comes on within seconds of a power failure to keep your lights on and your refrigerator, furnace and a/c running until the utilities get the lines back up. What's more, a propane generator will keep security systems on as well, providing you peace of mind, especially if the power fails while you're away.
Why Have a Propane Generator Installed?
Propane generators are quiet, extremely efficient, and clean-burning, with low emissions, and they are traditionally less expensive to run than gasoline-powered options.
There are a wide variety of size options, from "essential power" models that will power key equipment such as your refrigerator, heat, and lights, to true whole-house generators that can manage the demands of most extra-large homes…even during extended outages.
You should work with a pro to determine the best size for your home and needs—but you can use these guidelines to start:
What size is your propane storage tank? An average 5000-watt whole-house generator will run for one to two days on a 100-gallon tank. A 500-gallon tank would keep the same generator running for 7 to 10 days. Most homes have storage tanks that are 100 to 500 gallons.
Typical 5,000-watt whole house generators use about two gallons per hour. The most powerful, 9000-watt generators use three gallons per hour.
Of course, there are other factors to discuss as you make your choice:
How much power do you need to keep your home safe and comfortable? (You may not feel the need to power your whole house in emergencies.)
Does anyone in your home require power for medical equipment?
How big is your home?
Do you want to be able to heat—or cool—your whole home, or just specific areas?
We Can Help Run Lines to Existing or New Tanks
If you think you need a new propane storage tank to meet the needs of a whole house generator, the experts at PFM Propane can help you replace your old tank—and make sure your generator is connected safely and properly.
Please note that we do sell and install tanks, but not generators themselves. Additionally, we can also provide reliable automatic delivery service as well as wireless tank monitoring. We take the forecast into consideration when we plan deliveries—and we try to deliver early to ensure folks have propane ahead of storms.
If you have questions about how a whole-house generator can provide peace of mind year-round, or if you'd like to talk to us about your tank size or connecting a new generator to your existing tank, contact us any time. We're here to help.