Will a Propane Tank Monitor Prevent a Runout?
Written on: October 31, 2022
Get 24/7 Peace of Mind with Tank Monitoring!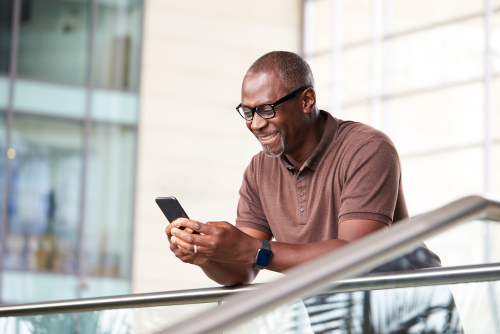 Customers have always appreciated the convenience of our automatic delivery service. After all, it helps cross picking up the phone and ordering propane right off your to-do list. That means—for most customers—you can stop worrying about runouts.
The thing is, automatic delivery doesn't work for everyone, particularly customers who travel frequently, own or manage multiple properties, or have inconsistent usage patterns. So, when we began offering Odata wireless tank monitors, those same folks asked us, "Will a wireless propane tank monitor prevent a run-out?" And the answer is yes! It absolutely can.
What's the difference between the two services, and what's the right one for you? The main difference is how your propane use is tracked.
Understanding How Automatic Delivery Works
Automatic delivery service relies on consistent propane use. We use a proven algorithm based on your usage patterns and the weather conditions to determine when you will need your next propane delivery. Since our calculations are based on your average usage, it's important for you to let us know of any changes that would result in a big shift in propane use. This means things like:
An extended vacation.
More or fewer people living in your home.
Working remotely (spending more time at home all day).
Adding new propane appliances or hearth products to your home.
All these things can all change your propane usage. And if we know about those changes, we can recalculate and adjust your deliveries accordingly.
Of course, if you travel often or your usage patterns fluctuate a lot, keeping us in the loop is as much of a hassle as checking your tank levels. That's when wireless tank monitoring is the service for you.
Understanding How Wireless Tank Monitoring Works
Wireless tank monitors track the level of propane in your tank in real time and transmit your usage via wireless cellular technology. When the tank gauge reaches a pre-set level, typically 30% full, the monitor alerts us—and you—directly via the wireless mobile app.
The app makes wireless tank monitoring great for people who are managing a rental property or an Airbnb, or multiple properties altogether. Propane use can fluctuate a great deal when different people, with different habits, are using a property over the course of a month. The app lets you know when deliveries are happening, and how often. No need to go and check the tank gauges of your different properties!
If you have a second home, a wireless tank monitor means you don't have to worry about how much propane is in the tank or think about ordering a fill-up before you arrive.
In addition to timely alerts, the app gives you even more control and insight. You can use it to easily track and adjust your monthly energy consumption—which can help you save on energy costs.
Which Option Is Right for You?
If you have regular habits and your propane bills are consistent throughout the year, you are likely fine opting for automatic delivery service. Just remember to let us know if you'll be away for an extended period or if you add new propane equipment!
But if you want total peace of mind and zero hassle or labor, a wireless tank monitor is a smart choice. The bottom line is that a propane run-out can be more than a nuisance…it can be a very expensive mistake. With tank monitoring, you can eliminate the chance of having one, while also saying goodbye to the hassles and headaches of managing your propane deliveries.
What's in it for us? It makes things easier on our end too! We're better able to plan deliveries, using the most efficient routes. That saves time and money, savings we can pass on to you.
A wireless tank monitor is easy to install, and we can have you ready to go in a matter of minutes! Contact us today to find out more about the benefits of wireless tank monitoring and how we can get you set up—100% hassle-free.