Propane Adds Warmth To Your Home Both Inside & Out!
Written on: September 3, 2021
Versatile Propane Can Bring You Comfort in Many Ways!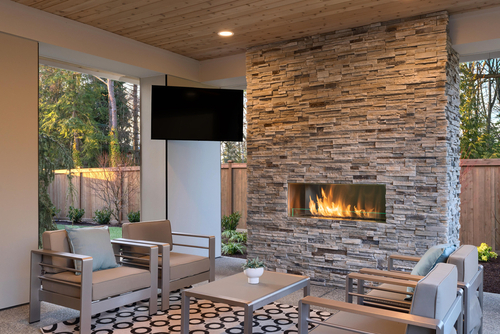 As the seasons begin change, cooler weather will soon be upon us. What's great about that is folks can enjoy using propane to stay warm both inside their homes–and outside as well–during these times of year! In this article, we will take a closer look at just three popular options: propane gas logs for inside your home, and, for outdoor living, propane fireplaces and propane firepits, and how they can breathe new life into your existing residence!
Propane for Indoors: Gas Logs
If you're looking add some ambiance to your North Carolina home, you would probably love a vented gas log set, which allows you to add a free standing "fireplace" to just about any room in your home.
The team at PFM Propane can also transform your existing wood-burning fireplace to the convenience of gas with a propane gas log set. It doesn't require any change in the appearance or structure of your fireplace. Instead, it delivers a realistic, room-enhancing fire, at any moment, any day of the year! We offer top name brands at competitive prices that are perfect for your home.
If you want a fireplace that serves as a heat source, too, then fireplace inserts or free-standing gas fireplace may be the best choice. At PFM Propane, we are propane fireplace experts! With decades of experience under our belt, we are the trusted propane delivery and service company of many homeowners in North Carolina.
Read more about our gas log sets here!
Propane Fire Pits: Rustic Charm and Cooking Capabilities
Cleaner-burning propane gas fire pits can deliver the same rustic charm you love without the pollutants and clean-up chores of a wood-burning unit. Gas fire pits are available in a wide range of materials, styles and sizes, so it's easy to find the right design for your backyard space.
And while propane gas fire pits are typically not designed for cooking, this doesn't mean they can't do the job when necessary. Unlike gas grills, however, propane fire pits don't contain features such as food drip pans and easily cleanable cooking surfaces, so you will have to take some extra care if you cook anything over a propane fire pit.
But the right cooking tools and a thorough cleanup can make your propane fire pit a reliable option for a quick snack during your backyard gathering.
Make an Outdoor Propane Fireplace a Warm Focal Point
If you've been dreaming about adding a warm and welcoming focal point to your back yard, ask us about outdoor propane fireplaces! Why bother with the hassle of building a wood fire when you can start a propane-gas powered fire with a push of a button? Outdoor propane fireplaces offer impressive BTU burner power that will keep you warm and toasty on even the chilliest of evenings.
Need Propane Delivered to You?
Besides installing and servicing fireplaces, firepits, gas logs and other propane appliances, we also provide reliable propane delivery service across Chatham County, NC. Why not become a PFM Propane customer today, and see the difference we can make for your home or business?