Local Propane Delivery in Asheboro, North Carolina
PFM Propane delivers energy-efficient propane througout Randolph County, NC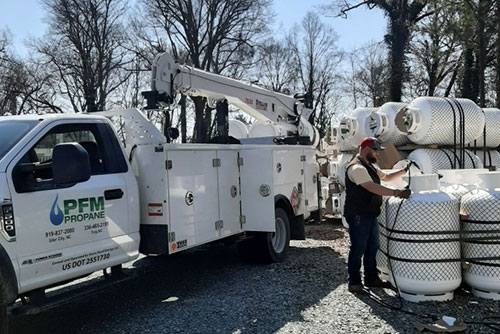 Homeowners in Asheboro, NC, and throughout Central North Carolina trust PFM Propane for home comfort. Since 2003, we have dependably delivered propane to homes throughout Randolph County. Our drivers are reliable, professional and friendly. Plus, we offer no-fee Automatic Delivery, so you don't need to track tank levels!
PFM Propane also offers several Price Protection and Flexible Payment Options, including:
Autopay: Why mail a check? You can provide us with an account number or credit card, and we handle the rest!
Monthly Budget Plan: Get rid of bulk payments during peak heating months. Our budget program lets you pay in 11 equal installments.
Pre-Buy Program: Worried about rising energy prices? You can purchase propane for the season in advance and lock in your rate!
And PFM Propane delivers more than fuel! Our other services include:
Our Office:
PFM Propane
95 Bonlee Road
Siler City, NC 27344
919-837-2000
Hours:
Monday-Friday — 8:00 a.m. — 5:00 p.m.
Saturday — Closed
Sunday — Closed
What are folks saying about PFM Propane?
Customer service is top-notch. I call, and they deliver promptly! I've been a PFM customer for eight years, and they've always done great for me." — Ray C.
"PFM, hands down!!! I love PFM! Thanks for always keeping us warm." — Darlene T.
"PFM helped us through a challenging renovation. We converted from a nearly all-electric heated home to propane, and the staff at PFM stuck with us through many tough decisions and construction changes along the way." — Jimmie R.
Have you discovered fabulous Asheboro, NC?
Asheboro is the largest town in Randolph County, with a population of approximately 25,000. Taking its name from the ninth Governor of North Carolina, Samuel Ashe, Asheboro remained a village until after the Civil War, when railroads led to an increase in population and a rise in manufacturing.
Today, Asheboro is known for its beautifully maintained city center and welcoming atmosphere. Some of its most popular attractions include:
The North Carolina Zoo
The Historic Sunset Theatre
The American Classic Motorcycle Museum
Bicentennial Park
Pisgah Covered Bridge
Four Saints Brewing Company
Experience the PFM Propane difference!
With offices in both Siler City and Troy, PFM Propane has kept Central North Carolina homes warm and safe for two decades. Families in Asheboro and throughout Randolph County count on us to power their HVAC systems, water heaters and gas-fired appliances.
If you're looking for a home energy partner you can truly trust, search for your ZIP code here to see if we service your area. You can also contact us directly to become a customer.