Keeping Your Home Warm and Comfortable with Reliable Propane Delivery in Montgomery County, NC
Make the Switch to PFM Propane and Enjoy Our Expert Delivery.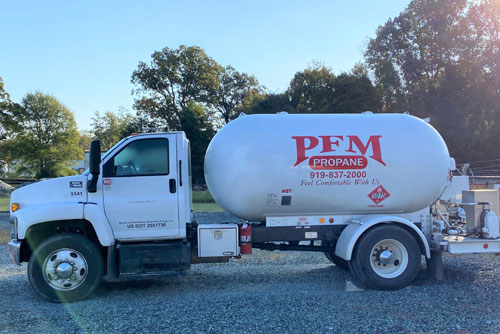 The trained, dedicated team at PFM Propane is ready to handle your Propane needs. Our team of experts is committed to building lasting relationships with our customers, providing personalized service and attention to detail that they can count on. Our team of experienced professionals is equipped to handle any Propane needs with speed and accuracy. Our team of dedicated professionals works hard to ensure that you receive the highest level of service and support every time.
Our full-service team is always there, providing the following services to our customers:
We understand the importance of having a well-trained staff, and we invest in ongoing training to ensure that our team stays up-to-date with the latest Propane-related information and best practices.
Our dedication to providing high-quality Propane Delivery at a fair price is reflected in our reputation for excellence and customer satisfaction.
Our extensive resources and supplier relationships allow us to offer our customers a broad range of Propane solutions regardless of market challenges or shortages.
Our online payment portal is just one of the many ways that we strive to make our services as user-friendly and hassle-free as possible for our customers.
Join our growing list of satisfied customers by scheduling your Propane Delivery with us now.
Reviews
We pride ourselves on exceeding our customers' expectations, and our positive customer reviews speak for themselves.
Contact Us
Looking for dependable Propane Delivery for your Siler City home? PFM Propane is ready to help. Become a customer today!
About Us
Our company has grown and evolved over time, but our core values – honesty, integrity, and a strong work ethic – have remained the same.
NOTE: Propane emergencies require immediate attention. In the case of an emergency, don't email us. Call us at +1-919-837-2000.
Our office is located at:
Address:
PFM Propane 95 Bonlee Rd, Siler City, NC 27344
---
Phone:
+1-919-837-2000
---
Hours:
Sunday: Closed
Monday: 8:00am – 5:00pm
Tuesday: 8:00am – 5:00pm
Wednesday: 8:00am – 5:00pm
Thursday: 8:00am – 5:00pm
Friday: 8:00am – 5:00pm
Saturday: Closed
PFM Propane Services
PROPANE
On-site propane delivery to your home.
Professional propane tank installation.
Commercial propane services for your business.
PROPANE TANK
Professional propane tank installation.
Propane tank maintenance services.
On-site propane tank removal.
GENERATOR
We provide on-site generator installation.
Generator maintenance services to keep your generator running smoothly when you need it most.
Call us for professional generator services.
COMMERCIAL PROPANE
Commercial propane for fleet fueling and more.
Easily schedule a commercial propane delivery today.
On-site commercial propane tank installation, scaled to your business.
Bulk propane delivery and services save you money.
GAS FIREPLACE
The most realistic-looking gas logs and gas fireplace inserts available!
Gas fireplace installation and services.
Vented and ventless gas fireplace installation and repair services.
GAS LOGS
We install and service premium gas log sets in existing fireplaces.
We offer ventless and vented gas logs.
Gas log not working like it used to? Call us for an expert gas log repair.
Keep your gas log set working for years to come with regular cleanings and maintenance.