Propane Delivery in Siler City, NC: Reliable, Efficient, and Convenient
Get Reliable Propane Delivery and Never Run Out of Propane Again!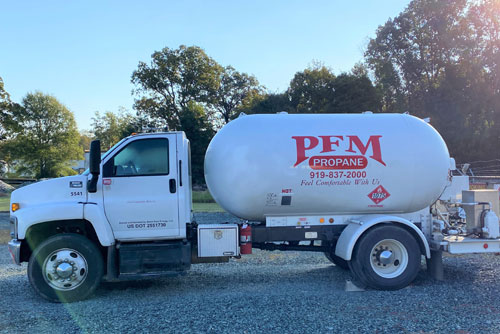 Our stellar team has been helping families and businesses in Chatham for years and has the experience, skill and commitment to handle all your Propane Delivery needs. Our company's mission is to always be there for our loyal customers making it easy to stick with us. With our prompt and reliable Propane Delivery services, you can rest assured that you'll always have the Propane you need when you need it most. With our reliable Propane Delivery, you can trust that we will always be there when you need us, providing you with the services you need to stay warm and comfortable.
Our full-service team is always there, providing the following services to our customers:        
We understand the importance of having a well-trained staff, and we invest in ongoing training to ensure that our team stays up-to-date with the latest Propane-related information and best practices.
You'll always know that you are receiving Propane Delivery at a fair price.
We maintain ample supplies of Propane Delivery, as well as good, long-term relationships with suppliers.
With our user-friendly online payment portal, you can submit your payment in just a few clicks, making the process simple and stress-free.
Trust us for all your Propane Delivery needs – give us a call today to get started.
Reviews
With so many satisfied customers, it's clear that we are the premier choice for Propane Delivery services in the area.
Contact Us
For the best Propane Delivery in Siler City, you count on the PFM Propane team. Get in touch with us today!
About Us
We are a family-owned and operated business with deep roots in the community, and we take great pride in serving our fellow residents.
NOTE:
Propane emergencies require immediate attention. In the case of an emergency, don't email us. Call us at
+1-919-837-2000
.
Convenient Propane Services Nearby
Address:

PFM Propane 95 Bonlee Rd, Siler City, NC 27344
---
Phone:

+1-919-837-2000
---
Hours:

Sunday: Closed
Monday: 8:00am – 5:00pm
Tuesday: 8:00am – 5:00pm
Wednesday: 8:00am – 5:00pm
Thursday: 8:00am – 5:00pm
Friday: 8:00am – 5:00pm
Saturday: Closed
PFM Propane Services
PROPANE
On-site propane delivery to your home.
Professional propane tank installation.
Commercial propane services for your business.
PROPANE TANK
Professional propane tank installation.
Propane tank maintenance services.
On-site propane tank removal.
GENERATOR
We provide on-site generator installation.
Generator maintenance services to keep your generator running smoothly when you need it most.
Call us for professional generator services.
COMMERCIAL PROPANE
Commercial propane for fleet fueling  and more.
Easily schedule a commercial propane delivery today.
On-site commercial propane tank installation, scaled to your business.
Bulk propane delivery and services save you money.
GAS FIREPLACE
The most realistic-looking gas logs and gas fireplace inserts available!
Gas fireplace installation and services.
Vented and ventless gas fireplace installation and repair services.
GAS LOGS
We install and service premium gas log sets in existing fireplaces.
We offer ventless and vented gas logs.
Gas log not working like it used to? Call us for an expert gas log repair.
Keep your gas log set working for years to come with regular cleanings and maintenance.