Residential Propane Delivery in Troy, North Carolina
Families trust safe, dependable fuel delivery from PFM Propane!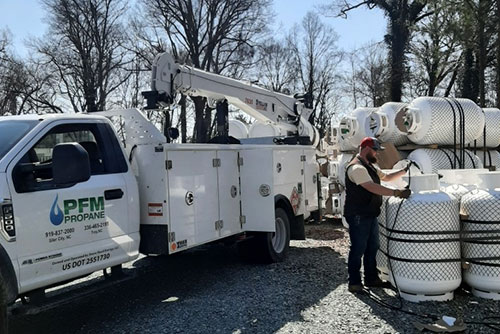 Since 2003, PFM Propane has kept homes warm, safe and comfortable in Troy and throughout Central North Carolina. We deliver propane and so much more:
Our Office:
PFM Propane
5284 Burney Mill Rd
Troy, NC 27371
919-837-2000
Hours:
Monday-Friday — 8:00 a.m. — 5:00 p.m.
Saturday — Closed
Sunday — Closed
Customers love PFM Propane's local, reliable service!
"I have used PFM since 2016 and would have no other company serve me. They are honest, prompt and very customer-service oriented." — Judy B.
"PFM Propane has been one of the most reliable, caring and professional companies I have ever worked with. They act with integrity and always follow through. We came to them when we were completely out of gas and needed help. They made it to us within 24 hours … I can't speak highly enough of their customer service. Thank you, PFM!" — Jennifer B.
Troy, North Carolina is a small town—filled of hidden treasures!
Troy was founded in 1852 when a settler named Angus McCaskill donated 50 acres to form a town in Montgomery County. Initially called West's Oldfield, it took the name Troy from NC Assemblyman John B. Troy.
A local legend states that the first streets of Troy were paved with rock pulled from a nearby gold-mining town called Eldorado. The story goes that Troy citizens would occasionally find bits of gold under their feet. Troy's streets were literally paved with gold!
Today, Troy welcomes visitors drawn to its historic downtown and outdoor fun at Uwharrie National Forest.
Where else does PFM Propane serve?
PFM Propane has offices in both Siler City and Troy. We are trusted throughout the community, delivering propane and installing propane-fired equipment across Central North Carolina.
You can search for your ZIP code on our website to see if we service your area. Also, feel free to contact us directly to become a customer.