Local, Reliable Propane Delivery in Chatham County, NC
If you need a propane delivery to your home or business, contact PFM Propane today—we're standing by, and ready to assist!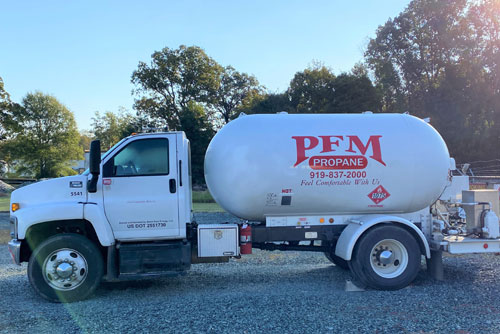 Fast, comfortable and energy-efficient, propane heating is a solid choice. If you are new to propane, we want to show you all the ways you can use this fuel, both inside and outside, at your North Carolina home.
A propane-fueled water heater is more energy efficient than an electric water heater.
With a propane clothes dryer, you can get through the laundry more quickly than with an electric dryer—and you'll see fewer wrinkles.
You'll get precise temperature control—quickly—when you use a propane range or cooktop.
With a propane fireplace or freestanding stove you'll enjoy all the warmth of a fire—but you won't need to deal with the wood.
Head outside and enjoy a propane-fueled BBQ grill, as you run other outdoor appliances on propane as well, including a fire pit, pool and spa heater, mosquito trap, patio heater and more.
PFM Propane can give you all of this and more with our safe and reliable propane delivery. You'll also enjoy payment options that work for you, including our budget plan.
Enroll in our Automatic Delivery service to make things easy!
We make it easy with Automatic Delivery! All you have to do is enroll. Once you're signed up, we handle the rest—from keeping track of your fill levels to scheduling delivery times. And with automatic delivery, you'll never have to worry about a run-out. How does it work? We keep up with your household's propane usage as well as the weather for the near future. With that information, we're able to determine when you should receive a propane delivery. We'll take care of that before you're anywhere near running out. It's the peace of mind you deserve!
Can I call you when I want my propane delivered?
If you prefer to have more control over when we deliver your propane, try our Will Call option. If you choose this route, you'll need to keep up with your propane levels and let us know when it's time for a fill-up. Additionally, we do offer emergency delivery, 24/7, but please note that off-hour fees may apply.
Do you have questions about propane delivery for your North Carolina home, or do you want to become a PFM Propane customer? Contact us today or give us a call.